Body Image Lies
Have You Fallen for This One?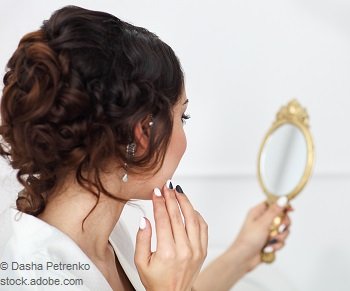 I think as females, most of us have struggled with body image lies, especially this one.
Body Image Lie:
If I can change something about my body, others will finally accept me and I will be able to accept myself.
It is so easy to base our self worth on our looks and appearance because it is the first thing others see in us.
Plus, there are mirrors (or windows) everywhere that constantly remind you of your appearance.
As I started to work on this area in my life, I realized one day that I was addicted to mirrors....always checking my appearance to see if I looked okay. Some days I would feel good about what I saw and thought that my hair and/or outfit was cute. However, there were other days I couldn't wait to get home and hide.
Ever feel this way?
Note: One way to know whether or not you are also addicted to mirrors is to deliberately try to avoid them for a day or two. Like me, you may realize it's more of an obsession, or "addiction", than you realized.


What Would You Change About Your Body?
What if you could change one thing about your body....what would you change?
I know what my answer is without even needing thinking about it. I bet most of you already have your answer too.
The thing I've struggled with the most regarding my body has been my acne and the scars it has left behind.
In high school I had a perfect complexion. I even remember someone commenting that my skin looked like a china doll. Well, that soon ended when I entered college.
I'm not sure exactly what caused it -- possibly the combination of bad eating habits and hormones. I thought it would just be a short phase and then be gone. But, here I am, now in my 30's and still struggling with breakouts of acne.
UUUGGGGHHHH!!
I've tried most everything from Mary Kay to ProActiv to Arbonne to supplements and vitamins to hormone creams, etc. Nothing has worked. Plus, I have the scars that the acne has left behind to look at everyday in the mirror.
So, how did I cope? To compensate for the acne and try to cover it up, I began wearing a lot of makeup.
One day I felt challenged by God to go out to eat with my husband, CJ, without wearing any makeup. I wasn't sure I understood correctly. Go without any makeup?? Surely not.
So I asked God, "Are you sure you want me to do this?"
You see, I was using makeup as a means of self-protection and to feel better about myself. So to go out without any makeup literally felt like I was leaving the house naked!
How embarrassing and devastating!
Well, anyway, I did end up obeying God that night and left without a trace of makeup. After a few minutes, I couldn't stand it any longer, so I asked my husband if he noticed anything different about my appearance.
He looked at me and hesitantly said, "You're wearing a new headband?"
I then asked him if he noticed anything about my makeup and he said "No, he didn't."
How ironic.
Here I felt "naked" and self conscious and he didn't even notice!
What I've learned from that experiment is that other people don't notice my imperfections nearly as much as I do. I'm much harder on myself.


Read More Stories About Body Image Lies...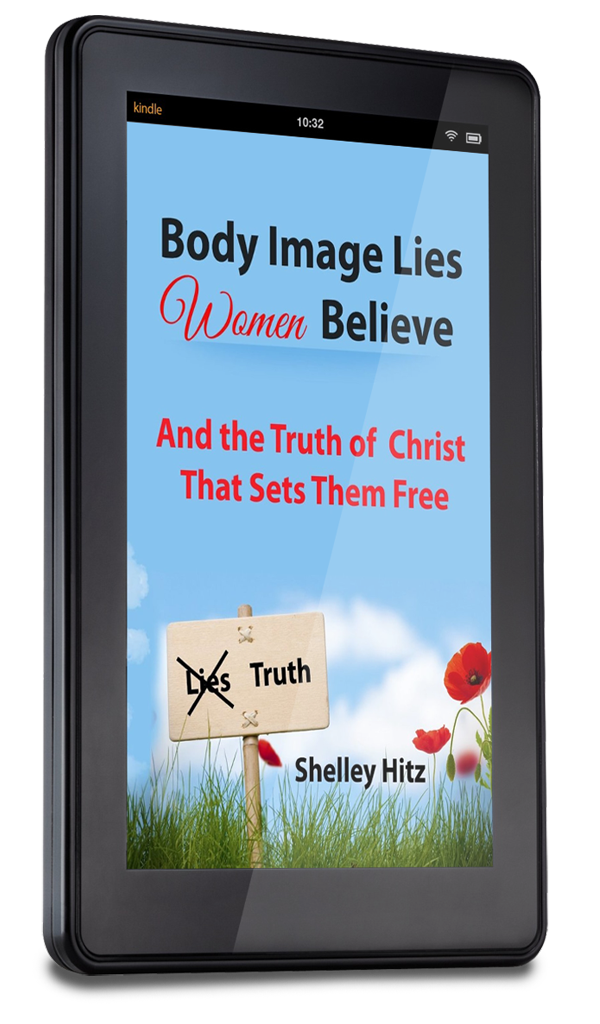 Body Image Lies Women Believe is a book for women of any age. Read 26 different stories from 26 women just like you and learn how to overcome body image lies with God's truth.
Find out more and get your copy. 
Submit Your Story for the Teen Edition here.
The Body Image Truth Is:
My value comes from God, my Creator, and not from my appearance and what others think of me.
God is teaching me this truth that my value comes from Him and not my outward appearance. It is okay to desire beauty -- it's a God given desire -- but not to base my self esteem on it.
Our Beauty Comes From God
I wanted to close with something a friend of mine, Annika Lampmann, wrote.
My precious daughter, Your body is not an object.
I made you fearfully and wonderfully. My works are marvelous and your soul can believe this. (Psalms 139:14)
You are BEAUTIFUL and PERFECT, just as you are.
All beautiful you are, my darling; there is no flaw in you.(Song of Solomon 4:7)
Look at yourself through my eyes and be amazed.
Your Dad, Your God, Your Creator.
"Father, show me my beauty. Show me what you see when you look at me and show me what you put inside my heart. I want to be rooted in your love and bloom like a beautiful rose.
Fill me up with your spirit and with your thoughts. Let me see others and myself through your eyes, Jesus. Amen."
You Really Are Special
John Cooney, in one of his Grapevine newsletters, rewrote this many years ago (original author unknown):
"YOU'RE REALLY SPECIAL! You really are! In all the world there's no one like you. Never has been. Never will be.
No one has your eyes, your nose, your hair, your hands, your voice, your smile. You're special!
No one anywhere has exactly your handwriting, exactly your finger-prints, exactly your tastes in food or music or TV. Since the beginning of time, there's been no one who laughs like you, no one who cries like you, no one who sees things just the way you do. You're special.
Look, you're the only one on this planet who's got your set of abilities. Sure there'll always be someone who's better at some of the things you're good at—but no one in the entire universe has your unique combination of talents and skills, dreams and feelings.
No one else through all eternity will ever look, talk, walk, think or do the way you do. You're special. You're rare. And like anything that's rare, you're valuable.
That's why you don't need to copy your friends. You can accept—yeah, you can celebrate—your differences! You can risk being yourself.
Hey, you're no ACCIDENT. God made you special for a very special purpose. He's got a job for you that no one else can do as well. Out of all the billions of applicants, only one is qualified. Only one has what it takes.
That one is YOU...because you're special!"
What do faith, fat, and fitness have in common?
You might be suprised.
Read more in this post.



About the Author
Shelley has a heart for teen girls that began from her own journey of finding her true beauty in Christ. She is currently serving God by helping other Christians learn to let their light shine. 

Connect with Shelley online:
More Help for Teen Girls...
| | |
| --- | --- |
| | Shelley and Heather have written a book specifically for teen girls -- and this book could change your life or the life of a teen girl you know...  |
How About You - What is One Thing You Want to Change About Your Body?
Also, you can add in what ways the lie below has impacted your self esteem and your relationship with God or others.

The Lie: "If I can change something about my body, others will finally accept me and I will be able to accept myself."

You read my story about my acne, now it's time to tell yours. I look forward to hearing your stories!
What Other Have Said...
Click below to read other's comments and view their pictures




See video with some eye opening body image statistics here.
Return from Body Image Lies to Teen Beauty Tips Homepage