Return to Modesty
Share Your Fashion Secrets!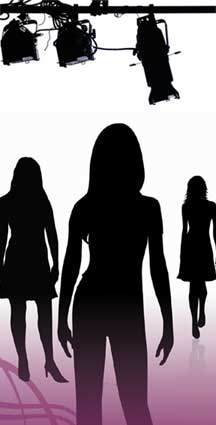 Are you wanting to return to modesty, yet still dress trendy? Share your fashion secrets - pictures and ideas for outfits - so we can help each other see that it is possible to be modern yet modest!
The Challenge...
We are challenging you to search through your closet and find your favorite outfit that follows our modesty tips, and is cool, trendy and fun! Then, have someone take your picture and send it in to us. Describe your outfit and what makes it a good choice for us girls who are trying to find our true beauty.
If you haven't already, you may also want to check out Shelley's story as it relates to clothing choices.
There Are No Set "Modesty Rules"
What?!? Did you read that right? Yes! We want to make sure you understand we're not trying to shove "101 modesty rules" down your throat. We realize that every girl's body is different and may look differently in the same clothes. So, what applies to us, may not apply to you. Plus, modesty comes from the heart, so this is something between you and God.
A Few of My Modesty Tips...
These are only tips and not rules. But, they can get you started in the right direction. So, let's do a quick modesty check from head to toe using a few of my modesty tips.
1. Is the neckline of my shirt too low? 
*Note* Put your hand flat against your chest under your neck. If you have cleavage between your hand and the top of your shirt, it's probably too low.  
2. When I lean over does my shirt gap?
3. Are my bra straps showing?
4. Is my shirt too tight?
5. Does my belly show when I lift my hands overhead?
6. Can you see my underwear when I lean over?
7. Are my pants or skirts too tight? Does my panty line show through?
8. Is my skirt or shorts too short?
*Note* sit down and look in front of a mirror to check.
Solution: Wear board shorts, Capri's, or long skirts. You can also layer by adding a pair of leggings underneath.
9. Is my shirt too loose?
This my sound silly, but if your shirt is too loose, it can show more than you mean to when you lean forward. 
Those are just a few ideas that we have found to work for us, you may have your own creative ways of coming up with modest, yet trendy outfits. We'd love for you to share them with us below!

About the Authors
Shelley Hitz and Heather Hart have been working together for close to a decade. This ministry stems from their combined efforts to help today's teen girls find their true beauty in Christ.

You can learn more about them and their ministry here: https://www.teen-beauty-tips.com/meet-our-team.html



---

Shelley and Heather have written a book...
specifically for teen girls -- and this book could change your life
or the life of a teen girl you know!
Where to Shop for Modest Clothes Online
Charming Charlie (This is Heather's favorite store! They have super cute modest clothes. A few have low necklines, but they have the perfect tank tops to wear underneath.)
Sweet Salt Clothing (this is some of the most affordable modest clothing we've found)
Watch this Video for 5 Wardrobe Hacks for Dressing Modestly
Share Your Fashion Secrets!
Once you find your outfit, have someone take your picture wearing it and send it in to us. Describe your outfit and what makes it a good choice for us girls who are trying to find our true beauty.

You can send in as many entries as you want each month, so keep them coming.

I can't wait to see your outfits and get new ideas for when I go shopping!
See Other's Fashion Secrets...
Click below to read other's comments and view their pictures