True Beauty Books
Hey Girls!
My goal is to help women of all ages find their true beauty in Christ, and one way I do that is through writing. I am a huge book lover myself, and I believe books have the power to change our lives.  On this page, you will find some of the books that I have written or contributed to that I believe will help you on your journey to being the beautiful woman God created you to be.
Blessings,
Heather Hart
Mirror Mirror...Am I Beautiful?
A book to inspire teen girls.  

Get practical, real-life, biblical advice for the issues you deal with every day.  Body Image. Beauty. Fashion. Sex. Dating. Self Esteem. Relationships.

Will you dare to look deeper? If you do, you will find that there is so much more. More than what your mirror has for you. More than what Hollywood and the media has for you. More than what any guy can give you.
When you look deeper, you'll find true satisfaction, true beauty and true intimacy waiting for you. Jesus is inviting you to take this journey with Him. Will you accept?
Get This Book
Free PDF | Kindle | Paperback | Audio
Teen Devotionals... for Girls! Series

Looking for teen devotionals just for girls? Look no further! Sign up today to start receiving these encouraging devotionals in your email inbox daily or weekly, or pick up a copy of the book to help start your day off right!
Sorry guys… this is for girls only!
21 Teen Devotionals... for Girls!
Teen Devotionals... for Girls! Vol. 1
Teen Devotionals... for Girls! Vol. 2
21 Prayers for Teen Girls
Prayer is something that we hear Christians talking about all the time. However, when it comes to actually talking to God we often don't know what to say. 


In 21 Prayers for Teen Girls, Heather and Shelley share prayers they have written to their Heavenly Father. The two invite today's teen girls to pray along with them as they make a habit out of praying for God to mold them into the women He created them to be.
Get This Book
Body Image Lies Women Believe
| | |
| --- | --- |
| | God has created each one of us with unique abilities, unique talents and a unique personality. As women we are influencers and God has given us that role and our beauty to share with others. Yet so often we settle for a counterfeit. The enemy has counterfeited our idea of beauty, convincing us to share our beauty with the world in a distorted way. Today that often means that we see our beauty as what we look like on the outside. |
Get This Book
Candid Conversations
Life isn't always sunshine and chocolate. It's hard. Being a Christian doesn't change that.

In Candid Conversations you'll read real life stories from real Christian women, and how God has used their struggles to either refine their faith or used their faith to help them weather the storm. From struggling with doubts to dealing with the loss of a loved one, these women lay it all out. They aren't afraid to get real, because they know God can use their struggles to inspire, encourage, and reach others all for His glory.

Get This Book
Broken Crayons Still Color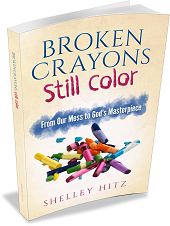 Many times what we see as our biggest regrets, failures and mistakes become what God uses the most in our lives.

God is able to transform our brokenness into something more beautiful than we can even imagine. He takes our mess and creates a masterpiece.

You see, broken crayons still color.

Get This Book
Blessings from Above
In His sermon on the mount, Jesus suggested that true blessings go much deeper than that. He taught that true blessings come from above. 

Go deeper into the beatitudes with Heather Hart as she shares modern-day examples of biblical teachings. Each of the eight chapters is short, includes questions to ponder, and was designed to bring Christ's message home. 

Get This Book
More Books By Heather Hart
| | |
| --- | --- |
| | Heather Hart is an internationally best-selling and award-winning author who has an unquenchable passion for Jesus. Her desire is to help women of all ages embrace who God created them to be and find their true beauty in Christ. She currently resides in a small Texas town with her husband and their four, quickly growing children.  |
Find more books by Heather here
---
Looking for even more books?
Check out this list of books I recommend!
Return from True Beauty Store to Teen Beauty Tips Homepage