How To Gain Self Esteem
by Breaking Free from the Lies We Believe


What do lies have to do with learning how to gain self esteem? Well, let me start by sharing an illustration that makes sense to me. It has to do with weeds.
Let me ask you a question. What is important when you are weeding your garden?
Recognition of which plants are weeds.
Otherwise, we may uproot the good with the bad or allow certain weeds to continue to take root, thinking they are life giving, fruit bearing plants!
Isn't the same is true in our lives, in regards to our thoughts? We need to develop "weed recognition", the ability to recognize when the enemy is planting those weeds of lies into our lives. Even Jesus said that they will know you by your fruit.
In my life, this has made a huge difference as I've learned how to gain self esteem.
In his book, "Waking the Dead", John Eldredge says, "most of us simply try to 'put things behind us,' get past it, forget the pain as quickly as we can. Really – denial is a favorite method for coping for many Christians. But not with Jesus. He wants truth in the inmost being, and to get it there he's got to take us into our inmost being….to go with him into the deep waters of the heart, uncover the lies buried down there, and bring in the truth that will set us free. Don't just bury it quickly; ask God what he is wanting to speak to."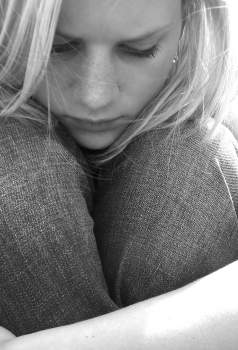 Begin to recognize and uproot the weeds or lies in your life is your first step in learning how to gain self esteem. Often times those thoughts that keep coming up in your mind again and again (and tear you down instead of build you up) will be those lies. My mom calls it…."Stinkin' Thinkin'"!

Realize that those defeating thoughts are not from God, but from our enemy, Satan, who wants to destroy us and keep up captive. (John 8:43-45, John 10:10, Isaiah 61:1-4)
Some examples:

I am worthless

People I trust will hurt and betray me, therefore I can't trust anyone

I'm not as good as my friends

Something's wrong with me

I am ugly

I have to be perfect for people to like me.

I am a failure and always mess up.
What about body image lies - have you fallen for this one?
In place of the lies, begin to plant the seed of God's truth into your mind (2 Corinthians 10:5).
Why I Can Trust the Bible as Truth
We are transformed by the renewing of our minds! Check out Romans 12:2. And the only way to renew our minds is to change what goes into it!
Did you know that one way people are trained to recognize counterfeit money is by studying the real thing? Therefore, one way we can get better at recognizing the lies is to know God's Truth, reading scriptures. There is no shortcut for this step. This seed may take time to grow, it's hard work but worth it!
One great way to do this is to memorize bible scriptures. I know it sounds boring, but think of it as a way to prepare for battle. I have found it to be one of the most effective ways for me to have victory over Satan in my life.
Something else that has really helped me is praying God's word. If you are having difficulty overcoming a specific struggle in your life, I'd recommend trying it! It's changed my life.
Starve the flesh and feed the spirit. The more we feed the flesh, the bigger this "monster" grows and the more damage is seen. It seems innocent at first.
If you feel overwhelmed, don't! That's just another lie Satan is telling you to keep you from learning how to gain self esteem and true freedom in Christ. I have felt the same way and have had great friends to help me. You're not alone and if you need help or someone to listen, feel free to contact us.

Practical Steps to Replacing the Lies with Truth…
Identify possible lies in your life. Ask someone you trust to help you and pray for God's wisdom. Write them out on a paper or journal.
Choose one of the lies
Confess the sin of believing this lie rather than the truth and living your life according to this lie.
When applicable, forgive your parents or family members that have passed down this lie to you. Also, forgive any others that have influenced you to form this lie.
Repent, asking for God's forgiveness for living your life based upon this lie.
Reject the lie and break its power from your life based on what Jesus did for you by dying on the cross
Plant God's truth into your mind in place of the lie. Write out this truth.
Receive this new truth into your belief system as the replacement for the previously removed lie. (repeat above steps until you have gone through the entire list of lies)
Pray


~ Pray that God would bring an end to the effects of this lie in your life.




~ Pray for this truth to be planted in your heart




~ Pray that the Word already in your heart will be brought to the surface of your mind to use as a weapon against future defeating thoughts (Eph 6)




~ Pray for the discipline to meditate on this new truth for at least 30 days




~ Pray that the Holy Spirit would make you sensitive to falling back into old thought patterns and to be able to take captive any such thoughts




~ Pray for new habits to be formed in your mind as you learn how to gain self esteem.

Accountability. Have someone you trust hold you accountable.
Resources to Help You Gain Self Esteem
You are not alone - I love the verse that says, "Come close to God and He will come close to you." James 4:12. It's good to know that promise! I have an MP3 on my site called "I am not alone" that I put together as a reminder that we really are never alone. You can download it on this page.
How can you know who you are? 
Well, I think you can either see yourself and define yourself through others and what they think of you or by what God thinks of you. That was something I had to really work through because I tend to be a people pleaser and allowed what other people said or thought of me or might think of me to define who I was as a person.
Here is a download of an excel spreadsheet that is really cool. You put your name in one box and then it personalizes who you are in Christ.
Download this excel file to discover who your really are! (It will open as a .zip file)
Other resources to finding out who you are in Christ...
Read this Self Esteem Poem Titled "Who Am I?"
Who I am in Christ by Neil Anderson
Personalized bible verses regarding your identity in Christ - Click on the link that says Free Samples!
You may want to choose the ones that really stick out to you and write it on a piece of paper and stick it to your mirror. Or you can use a dry erase marker and write it directly on your mirror. Then, each week you can rotate a new one on your mirror. Just an idea!



About the Author
Shelley has a heart for teen girls that began from her own journey of finding her true beauty in Christ. She is currently serving God by helping other Christians learn to let their light shine. 

Connect with Shelley online:
More Help for Teen Girls...
| | |
| --- | --- |
| | Shelley and Heather have written a book specifically for teen girls -- and this book could change your life or the life of a teen girl you know...  |
Final Thoughts
Remember, these are all just ideas in learning how to gain self-esteem from the truth of what God says. But, I can tell you from personal experience that it is powerful when you apply it. If you need help in this, you can e-mail Heather below.





Return from How to Gain Self Esteem to Teen Beauty Tips Homepage