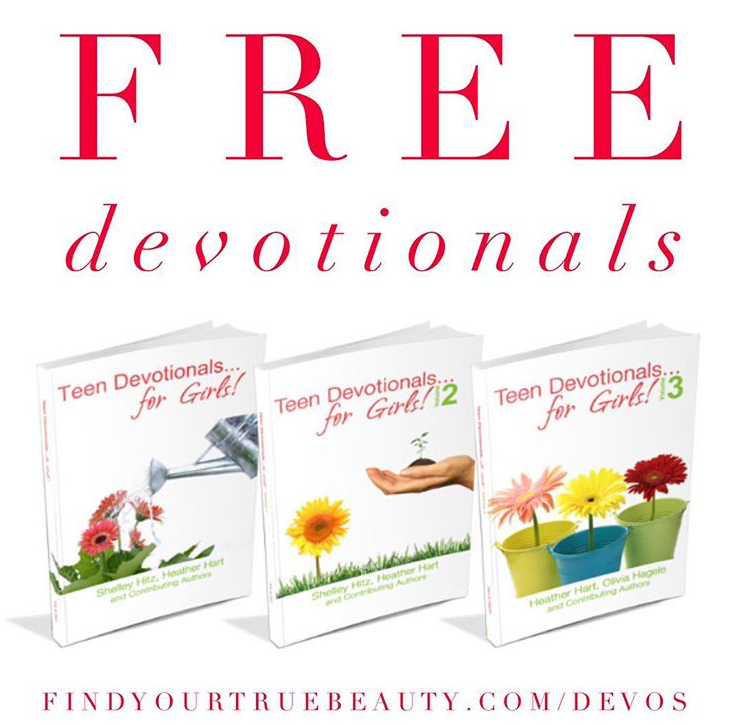 Looking for free teen devotionals just for girls? Look no further! Sign up today to start receiving these encouraging devotionals for teens in your e-mail inbox and start your day off right!

Sorry guys... this is for girls only :)
Free Teen Devotionals... for Girls!


Sign Up For Free Email Devotions
We currently have two options available for getting our devotionals free via e-mail. You can get them daily or weekly. We know today's girls are busy, so we want to be flexible for you.
---
---
---

Note: Our devotions go out each day/week based on the time you sign up. So if you sign up at 2pm, you will get a new devotion each day sometime after that. You can always wait to read them later, or wait and click the confirmation link we send via e-mail until right before bed, that your devotion will be waiting for you each morning when you wake up.
Click here to read our privacy policy
Devotion Topics Include...
Beauty
Salvation
Self-Esteem
Dealing with Loss
Dating
Bullying
Encouragement
Shopping
Growing in God

Purity
Friendship
Prayer
Family
Gossip
Selflessness
Love
Lies
And more!
Here's a Sample Devo from Volume 1
From Day 22...
"Where does your strength come from?"
Written by Heather Hart
But he said to me, "My grace is sufficient for you, for my power is made perfect in weakness." Therefore I will boast all the more gladly about my weaknesses, so that Christ's power may rest on me. That is why, for Christ's sake, I delight in weaknesses, in insults, in hardships, in persecutions, in difficulties. For when I am weak, then I am strong." 2 Corinthians 12:9-10
Boasting in our weaknesses is not something that comes natural to many of us. Delighting in weaknesses, insults, hardships, persecutions, and difficulties sounds even weirder. Can you imagine rejoicing when you failed a test, or when someone calls you names or spreads rumors about you? How about being happy about not understanding the math problem that your teacher wants you to solve? Does it sound silly yet?
Let's look at it a different way, when you fail a test can you rejoice in the fact that life doesn't revolve around one test score? Can you rejoice in the fact that the teacher is offering extra credit? Instead of focusing on the negative, look for the positive! So you failed a test, Jesus died for your sins! So your friend started a rumor about you, Jesus knows that truth, and His opinion really is the one that counts! So you don't understand the math problem, you can ask for help. Even if you never understand the math problem, God knows what direction he wants you to go in life, maybe it doesn't have anything to do with algebra (don't tell your teacher I said that...math is used in everything we do... you know what I mean though).
When we are weak, then we are strong. When we acknowledge that we can't do it on our own, then we open the door for God to help us. His grace is enough for us.
Reflection
Do you look at the negative in situations, or do you delight in the positives?
Application Step

Today when things don't go your way, look to God for your strength. Ask God to help you find the positive in the situation, and trust in His power.
Prayer

Father God, thank you for being my strength. Help me to remember that your opinion is most important, and help me to delight in my trials. Nehemiah 8:10 tells me that the joy of the Lord is my strength. Let it be so. Help me to find joy in you, and to delight in any circumstance. In Jesus name I pray, Amen.
What Others Are Saying...

"This devotional is absolutely fabulous...
I know it impacted my life in a good way." 
~ Mary


"...a great resource for teen girls." 
~ Jennie Zahn


"...each devotion is the right length for a busy girl." 
~ Ecuabuela


"...beautiful messages to keep you going throughout the day." 
~ Jennifer

"...they are always relevant to me, everyday..."
~ Wendy

"I love them. They're just what I need!" 
~ Madi
Readers Favorite 5-Star Review

"Teen Devotionals . . . for Girls! is to help young girls find a way to apply God's Words to their lives. These devotions are written just for young girls, with topics that deal with what teenagers are facing today.
If you have teenage girls, this devotional is a must for you. This book can also be used for individual Bible study or small group study. After each devotion, there is a Reflection time question, an Application step and a model prayer, giving plenty of questions and topics to think about. I strongly encourage you to pick up a copy of "Teen Devotionals . . . for Girls" for your teenager. I think you will be glad you did, and your daughter will thank you as well. This is a book I will purchase for my tween niece because she keeps asking me for books she can read. I am so glad I found one just for her!"
- Reviewed by Joy H. for Readers Favorite







Return from Free Teen Devotionals to Teen Beauty Tips Homepage