Body Image Statistics in this Eye Opening Infographic and Video
Here are a few eye opening body image statistics in this infographic: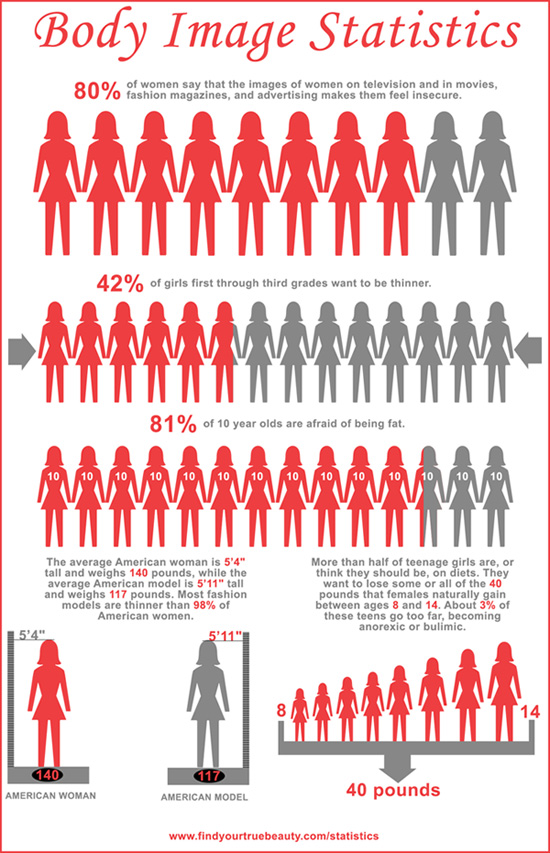 Embed this infographic on your site.
Check out this 3 minute video including body image statistics...
More Help for Teen Girls and Women Regarding Body Image...
| | |
| --- | --- |
| | Shelley and Heather have written a book specifically for teen girls -- and this book could change your life or the life of a teen girl you know...  |
| | |
| --- | --- |
| | Body Image Lies Women Believe is a book we put together for women of any age. Read 26 different stories from 26 women just like you and learn how to overcome body image lies with God's truth.  |
Body image lies - have you fallen for this one?
Body Image Statistics and References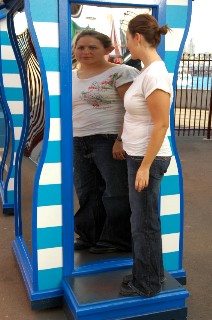 Americans had 11 million cosmetic plastic surgery procedures in 2006 - up 7%. (1)


More than half of teenage girls are, or think they should be, on diets.They want to lose some or all of the 40 pounds that females naturally gain between ages 8 and 14. About 3% of these teens go too far, becoming anorexic or bulimic. (2)


The Medical Journal of Psychiatry conducted a general population study on men with eating disorders and found that 2% of men, compared to 4.8% of women, have anorexia or bulimia. (3)


The average American woman is 5'4" tall and weighs 140 pounds, while the average American model is 5'11" tall and weighs 117 pounds. Most fashion models are thinner than 98% of American women. (4)


80% of American women are dissatisfied with their appearance. (5)


Female athletes are six times more likely to develop eating disorders than other women. (6)


80% of women say that the images of women on television and in movies, fashion magazines, and advertising makes them feel insecure. (7)


42% of girls and first through third grades want to be thinner. (8)


81% of 10 year olds are afraid of being fat. (9)


Without treatment, up to 20% of people with serious eating disorders die.With treatment, that number falls to 2 to 3%.(10)



The average woman spends 2 1/2 years of her life washing, styling, cutting, coloring, cramping, and straightening her hair at home and in the salon. (11)
If these statistics hit home with you, I highly recommend this book: Comfortable in Your Own Skin: Making Peace with Your Body Image
What Does the Bible Have to Say About Body Image?
1 Corinthians 6:19-20 "Do you not know that your body is a temple of the Holy Spirit, who is in you, whom you have received from God? You are not your own; you were bought at a price. Therefore honor God with your body.
Romans 12:2 "Do not conform any longer to the pattern of this world, but be transformed by the renewing of your mind. Then you will be able to test and approve what God's will is–his good, pleasing and perfect will."
1 Samuel 16:7 But the Lord said to Samuel, "Do not consider his appearance or his height, for I have rejected him. The Lord does not look at the things man looks at. Man looks at the outward appearance, but the Lord looks at the heart."
Psalms 139:14-16 "I praise you because I am fearfully and wonderfully made; your works are wonderful, I know that full well. My frame was not hidden from you when I was made in the secret place. When I was woven together in the depths of the earth, your eyes saw my unformed body. All the days ordained for me were written in your book before one of them came to be."
Philipians 3:20-21 "But our citizenship is in heaven. And we eagerly await a Savior from there, the Lord Jesus Christ, who, by the power that enables him to bring everything under his control, will transform our lowly bodies so that they will be like his glorious body."



About the Author
Shelley has a heart for teen girls that began from her own journey of finding her true beauty in Christ. She is currently serving God by helping other Christians learn to let their light shine. 

Connect with Shelley online:
Related Articles

References
Plasticsurgery.org/media/press_releases/2006-Stats-Overall-Release.cfm (last accessed February 2017)

ANRED anorexia nervosa and related eating disorders, http://www.an

red.com/stats.html

.

Kimberly Shearer Palmer, "Colleges Start to Realize Men Need Body Image Help Too," 

USA today, May 10, 2001, 15 A.

"

The prevalence of eating disorders." From NEDA. ht

tps://www.

healthywithin.com/stats.htm

Ibid.

"Coaching the Coaches," Psychology Today (March/April 1992), 10.

"Searching for the perfect body." www.people.aol.com/people/000904/magstories/index.html, posted August 25, 2000.

www.kidzworld.comsite/p.3155.htm

Ibid.

Ibid.

"Women spend two-and-a-half years on their hair."

www.dailymail.com.uk/pages/live/articles/news/news.html?in_article_id=402793&in_page_id=1770

.
Return from Body Image Statistics to Teen Beauty Tips Homepage