My Journey to Find Modest Swimwear
The Swimsuit Dilemma
Having difficulty finding modest swimwear? Me too! Here's a little about my journey...
I have to admit that as God began to get a hold of my heart in the area of fashion and modesty, I began to think differently. If you haven't done so yet, I'd recommend reading my story here first.
As I began to think differently, I began to question things I had always just accepted. Things I had just accepted as "normal." One of the things I began to question was our typical American swimsuit.
Beginning to Question My Swimsuit Standards
Questions like these began to enter my mind...
What is the history of swimsuits? Have we always worn revealing suits like we do today or did they previously wear modest swimwear?


Why am I willing to lower my standards regarding modesty for swimwear when I have willingly made changes in the rest of my wardrobe?
What does God think of my choice of swimwear? Am I pleasing Him in this area?
These are not easy questions with easy answers. To be honest, I tried to ignore the issue of modest swimwear at first. I don't swim very often, so I just didn't take the time to decide how I would handle it. Until I got this e-mail...
-------------
-------------
Hi Shelley! I am a new reader of your site, and I have to say that it is wonderful! It has helped me so much with my relationship with God and my family. My parents have never stressed the importance of being modest, and don't really have a close relationship with God, so you (unknowingly) have been helping me along.
I'm just 14 years old and in need of help. Personally, I don't really have anyone to go to with this question..... my mother doesn't understand how I'm feeling no matter how I phrase it. I'm struggling with modesty. With a school focused on looking "hott" when we're JUST 14, there's a lot of pressure.
With bathing suit season coming up, and skimpy less-than-lingerie bikinis EVERYWHERE, I'm afraid I may cave to the temptation, and buy one. What's your view on modest swimwear? bikinis? halters? one pieces?
-------------
-------------
I realized when I received this e-mail it was finally time to tackle this difficult question...what would be my stand on modest swimwear? I began to pray and ask God for His wisdom because I knew I didn't have the answers on my own.
The History of Swimwear
As I began researching the history of swimwear, I found it interesting that it wasn't until the 1920's that women began wearing the type of swimsuit that we now wear today. And at that time, it was still strictly a one-piece bathing suit. It wasn't until 1946 that the bikini was "re-invented" by two Frenchmen, Jacques Heim and Louis Reard. Today, most women wear either a one piece, a tankini or a bikini...some more revealing than others.
Check out a few pictures of swimwear from the past...

So, my first question was answered. Have we always worn revealing suits like we do today? No. They used to wear more modest swimwear and it has just been in the last 60 years that bikini's were "re-invented"!
My Double Standards, Feeling Like a Hypocrite
The more I thought about my swimsuit choices, the more I began to feel like a hypocrite. Why, you ask? Well, I decided that I could still dress trendy and cute as long as I didn't compromise my modesty standards. You see, God had begun to convict me of my clothing and fashion choices and I had begun making different choices. But it seemed like my swimsuit choices broke all my "modesty rules." There are no set "modesty rules," by the way. But a few things I try to avoid is shirts that are too low, too tight or too short. Read more about my journey to modesty here.
I started thinking....there's no way I would walk around on the street walking by strangers, in my bra and underwear, so why would I feel comfortable at the beach in a bikini (which is very similar to a bra and underwear) walking by strangers?
Or
I wouldn't choose to wear a really tight tank top and underwear to a friend's house to hang out, so why do I feel okay about wearing my tankini when hanging out by the pool?
I started to realize that I would have to change my swimsuit choices, but I didn't want to. It didn't seem like anyone else, even other Christians, were willing to stand out and be different. It seemed like everyone I knew just gave in to the culture and wore the typical swimsuit and that the "modest" swimwear choice was a one piece or tankini that wasn't too low cut on the top and wasn't cut too high cut on the bottom.
Was that really the only modest swimwear choice we have or are we just afraid of being different? I have to be honest, I was afraid to be different. It's something I've struggled with my whole life....choosing to please people rather than God. Wanting to fit in and be accepted by people and not "rock the boat." It's easier, or so it seems.
Brave by Nichole Nordeman
This song by Nicole Nordeman talks about no longer living a "status quo" life in Christ. That He will help us be brave in difficult decisions like this that go against the flow of culture. Are you willing to be brave concerning your swimwear choices?
What Does God Think of My Choice of Swimwear? Am I Pleasing Him in This Area?
I had to make a decision. Would I choose to please people or choose to please God. If I choose to please God, what does He think of my swimwear?
I have to admit that there is not a verse in the bible that mentions the words "swimsuit" "bathing suit" "modest swimwear" or "bikini." But, God does give us some of His thoughts about modesty and sexuality.
I Corinthians 6:19-20 says, "Do you not know that your body is a temple of the Holy Spirit, who is in you, whom you have received from God? You are not your own; you were bought at a price. Therefore honor God with your body."


Ephesians 5:3 says, "But among you there must not be even a hint of sexual immorality, or of any kind of impurity, or of greed, because these are improper for God's holy people."


Matthew 5:28 says, "But I tell you that anyone who looks at a woman lustfully has already committed adultery with her in his heart."


Luke 17:1-3 says, "Jesus said to his disciples: "Things that cause people to sin are bound to come, but woe to that person through whom they come. It would be better for (her) to be thrown into the sea with a millstone tied around (her) neck than for (her) to cause one of these little ones to sin. So watch yourselves."
God asks us to honor Him with our bodies. For me, I began to realize that I was not honoring God with my body in my swimsuit choices....instead I was compromising my standards and flaunting my beauty before others, possibly causing others to sin by lusting after my body.
Decision Time Regarding Modest Swimwear
I now feel convicted that I don't want to continue wearing the same tankini that I've worn for the last couple of years. Even though it is considered fairly modest swimwear - according to what is available these days.
So, if I'm not going to wear the tankini, what am I going to wear?
I started searching the internet for "modest swimsuits" to see what was out there. I was pretty disappointed because there is really not much available. There are a few options, but for the most part, I would have to compromise my standards of fashion in order to be modest. I wondered...is it really possible to find modest swimwear that would still be trendy and cute? So my search began.
A Look At Surfers Attire... Board Shorts and Rash Guards
Several of the websites I visited discussed the option of wearing board shorts and rash guard shirts as a modest alternative to the traditional swimsuit. Women Surfers usually wear this type of outfit to protect their skin from the sun and to be more functional....so their swimsuit doesn't fall off as they are fighting the waves.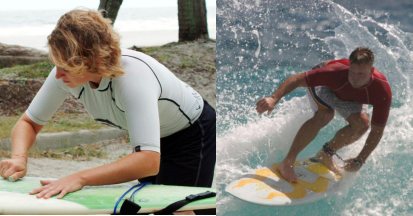 So, I thought, if surfers wear something like this, why not me? I don't think it would be a perfect solution for modest swimwear, but it could possibly work.
My First Attempt at a Modest Swimsuit
First I looked up board shorts and rash guards online. I'll warn you that they tend to be expensive. But, if you look on ebay, you may run across some that will work for you.
My next stop was the mall. I went a couple weeks before summer clothes were released and there was nothing anywhere that would work for me. I waited a couple weeks and then found a cute pair of board shorts at Walmart for under $15. I thought that was a pretty good deal. I then looked for a shirt I could wear to match the shorts. I figured I would be wearing a sports bra underneath it, but wanted something made out of material that would dry fast.
I found a shirt at Kohl's on sale that is 90% nylon and 10% spandex which is the same material you'll find in a typical swimsuit. I decided to wear a tight fitting tank top cami underneath (80% nylon, 20% spandex) and found the cami in the lingerie section because it's a type of shapewear that you can wear under clothes. Since the top is white, I needed to make sure that it didn't show through for me. Also, if the shirt comes up while I'm swimming it won't show anything since I have the other tank top underneath.
All in all, I spent about $40 for this option. I realize it isn't perfect or ideal, but it is a start.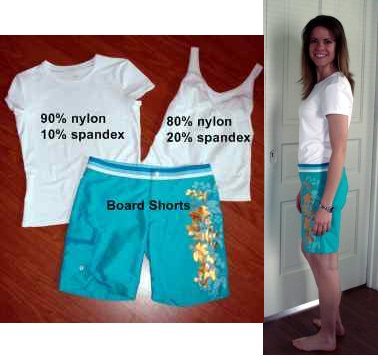 Let's Get Creative
Wearing board shorts and a shirt is not the only modest swimwear option. The options are really limitless, limited only by our creativity. This is the option I've chosen for me right now. What about you? What other ways can you think of to help make your swimsuit choices pleasing to God and honor Him with your body?
What about wearing a tankini with a swim skirt overtop. Land's End has a lot of options to mix and match, but it is a little expensive. Eddie Bauer also had a few options like tankini's and swim shorts. Or maybe you could find some great sales at your local stores.
Or maybe you know someone who sews or you can sew yourself and can design your own modest swimsuits! Maybe you could design a pair of swim shorts or swim skirt. Fresh modesty has a swimsuit sewing pattern that can be modified to exactly what you want to create your own modest swimwear.
Coolibar.com offers some modest alternatives. Their main purpose is to protect the skin from harmful UV rays, but also demonstrates modesty. They are expensive but may give you some ideas. You might also find something on Amazon.
Or what if you take what you already have and modify it to be more modest?
I think the most important part is to realize you do have options. Realize that you're not alone in this dilemma and that many other girls struggle to find an option for modest swimwear.
What About Modest Swimwear for Competitive Swimmers?
Okay, so I thought I had this swimming thing figured out until my friend talked me into doing a triathlon. What would I wear for the swimming portion of the triathlon? I didn't want to compromise my conviction for modesty and yet swimming competitively in a shirt and shorts was cumbersome.
Well, first of all, I prayed about it. And I suggest you do the same thing when confronted with a difficult decision. Allow God to lead you and give you His wisdom.
Again, what you decide for yourself may be different, but after praying about it, I decided to wear a sports swimming suit (i.e. Speedo) with light weight shorts. Then, I keep a shirt on or towel wrapped around me when I'm not swimming. So far it's worked okay.
Maybe you have some good ideas for modest swimwear for competitive swimmers. If so, share your ideas below.
Finishing my First Triathlon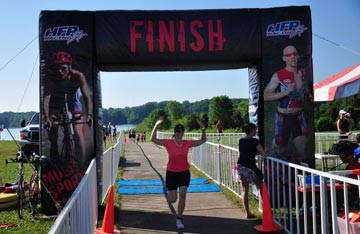 About the Author
Shelley has a heart for teen girls that began from her own journey of finding her true beauty in Christ. She is currently serving God by helping other Christians learn to let their light shine. 

Connect with Shelley online:
More Help for Teen Girls...
| | |
| --- | --- |
| | Shelley and Heather have written a book specifically for teen girls -- and this book could change your life or the life of a teen girl you know...  |
What Do You Think About Modest Swimwear?
This tends to be a controversial topic, even amongst Christians. What do you think? Are you comfortable wearing a bikini? What are some ways you think we can address this issue?

What Others Have Said About Modest Swimwear
Click below to see contributions from other visitors to this page about modest swimwear...




Other Articles!
Teen Fashion - My Edition of "What Not to Wear"

How are you advertising your body?

Share your fashion secrets!

The secret weapon for fashion...


Return from Modest Swimwear to Teen Beauty Tips Homepage