Inspirational Poems
Free Poems to Help Inspire You!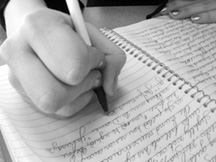 Do you want to read inspirational poems that will truly inspire you? These free poems will do just that. Poetry is a way to express yourself. To deal with the emotions inside. A way to show your creativity and uniqueness. It's also a way to help encourage others.
This is a place where you can both read free poems and share some of your own.
Did you know...
...that there are inspirational poems and poetry in the Bible?
Easton's Bible dictionary says, "Poetry has been well defined as 'the measured language of emotion.' Hebrew poetry deals almost exclusively with the great question of man's relation to God...In the Hebrew scriptures there are found three distinct kinds of poetry, 1) that of the Book of Job and the Song of Solomon, which is dramatic; 2) that of the Book of Psalms, which is lyrical; and 3) that of the Book of Ecclesiastes, which is didactic and sententious." (1)
List of Free Poems
Get started reading our inspirational poetry!
Or share your creativity with us and submit a poem below.
More Help for Teen Girls...
Shelley has written a book specifically for teen girls...and this book could change your life or a teen girl you know...Find out more now!


Bring Shelley to speak to your group, church or school! Shelley's openness and vulnerability as she shares her own story of hope and healing will inspire and encourage you. Get started now!


Free Poems Submitted by Others...
Click below to see the submissions from other visitors sharing their poetry with us...

References:
(1): poetry. Dictionary.com. Easton's 1897 Bible Dictionary. http://dictionary.reference.com/browse/poetry (accessed: September 27, 2008).
Return from Inspirational Poems to Teen Beauty Tips Homepage