New from Shelley Hitz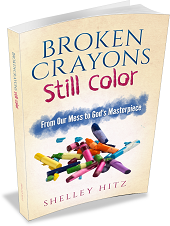 What Readers are Saying...
Mirror Mirror... Am I Beautiful?
"...hits on all the vital issues they deal with on a regular basis."
~Debbi Witt,
Co-Founder/
Associate Director of
Teen Quest
"Wow.
This is an awesome resource for girls."
~ S'ambrosia
"God is most definitely using you well."
~ Meghan
Teen Devotionals... for Girls!
"This devotional is absolutely fabulous...
I know it impacted my life in a good way."
~ Mary
"...a great resource for teen girls."
~ Jennie Zahn
"...each devotion is 
the right length for
a busy girl." ~ Ecuabuela
"If you have teenage girls, this devotional is a must for you."
~ Joy H.
at Readers Favorite
"...beautiful messages to keep you going throughout the day."
~ Jennifer


"...they are always relevant to me, everyday..."
~ Wendy


"I love them. They're just what I need!"
~ Madi