True Beauty Store
Store Home
Resources
Books
CD's
MP3's
Display Your
True Beauty!
T-shirts
Mugs
Bags
Hats
Buttons
Cards
Other Products
Girls, it's time to take a stand for true beauty! Our goal is to provide you with resources to help you find your true beauty and then to encourage you to display your true beauty and share it with others.

Resources to Help You Find Your True Beauty
Books
1.) Mirror Mirror...Am I Beautiful?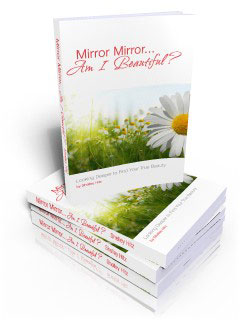 A book to inspire teen girls.

Get practical, real-life, biblical advice for the issues you deal with every day. Body Image. Beauty. Fashion. Sex. Dating. Self Esteem. Relationships.

Will you dare to look deeper? If you do, you will find that there is so much more. More than what your mirror has for you. More than what Hollywood and the media has for you. More than what any guy can give you.When you look deeper, you'll find true satisfaction, true beauty and true intimacy waiting for you. Jesus is inviting you to take this journey with Him. Will you accept?

More Information



Want Instant Access?


Get the Kindle Version!




Audio Book Instant MP3 Download

Want instant access to the audio book? Need a MP3 version for your iPod, computer or other electronic device?

Buy Shelley's audio book as a MP3 download from Clickbank for only $6.95






Optional Bible Study Guides
You can also purchase the bible study guide at the links below:

Bible Study Guide for Teen Girls








2.) Forgiveness Formula
Sometimes life doesn't seem to make sense or "add up" in our math. We have life circumstances that make us question whether we can truly have a full life. Divorce. Death. Sickness. Financial losses.

And life doesn't seem fair.

Maybe you've been searching for that formula that will help you make sense of your life. Come join us as we explore the Mathematics of Jesus. Find out how Jesus is and always will be the greatest mathematician, in that He knows what truly adds up to a full life.

More Information



Want Instant Access?


Get the Kindle Version!



Wallpaper, Posters and More
Display your true beauty on your computer, your blog or your Myspace page. Download our wallpaper, posters and other resources for free! Free Downloads