Barbie Body Image
How Toys Like Barbie Influence Our Body Image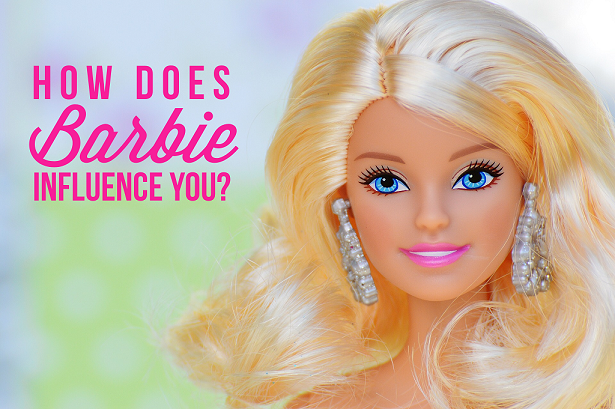 Check out this information on Barbie body image and how she is influencing girls around the world. How many girls grown up playing with Barbie dolls? A lot. Statistics show that two Barbie's are sold every second somewhere in the world. In fact, the average American girl from ages 3 to 11 owns 10. (1)
Barbie's Body Type
If you met Barbie as a human being, what would she look like? There are differing views. You can see one example in the picture to your right.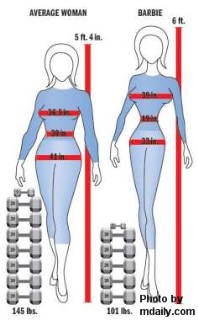 Another source says Barbie would stand about 5'6", weigh nearly 120 pounds, and have the measurements 38-18-34. 38 inches for her chest - 18 inches at her waist - 34 at her hips. It is speculated that if Barbie were human, she would be so thin that she would not be able to menstruate. This is because she would not have the body fat percentage necessary to do so. Statistics say the Barbie body type is likely to occur in one out of every 100,000 women (2).
No matter what way you look at it, Barbie's body is not average... and also not easily attainable.
View more body image statistics here
Barbie's Impact
What impact does this have on young girls that spend hours and hours playing with these dolls? Do they want to become like Barbie and look like her?
We know that the more time we spend with anything, the more influence it has on us. If you spend weeks studying for a test, you'll probably do better than if you just spend a few minutes studying.
I (Shelley) think the same is true with our time. If we spend hours and hours playing with Barbie dolls, they are bound to have an influence on us. Just as if we would spend hours and hours playing video games.
One Woman's Quest to Become Barbie
There is one woman, Cindy Jackson, who was so influenced by Barbie that it became her life mission to look exactly like her. Her obsession to look like Barbie started when her parents bought her first Barbie at the age of 6. And she didn't give up until she reached her goal. She ended up spending about $55,000 and underwent 20 plastic surgery operations to reach her goal of becoming Barbie.(3)
20 operations!
This is just one more example of how impossible it is to reach this ideal image without major alterations of our natural beauty.
Advertising can also cause us to try to reach an unrealistic ideal image of beauty. Watch this eye-opening video to see for yourself.
A 1965 Barbie Body Image Message
I couldn't believe this when I read it... In 1965 Mattel came out with a "Slumber Party Barbie" that came complete with a bathroom scale permanently set at 110 pounds. The doll also came with a book entitled How to Lose Weight. And inside this book it gave the advice: "Don't Eat". The matching Ken doll also came with slumber party accessories, but his were milk and cookies, sending a very different message (1).
Barbie Transformed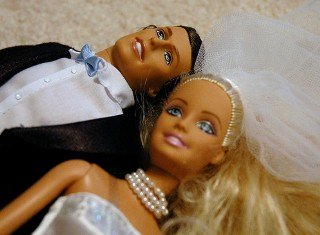 Mattel received many criticisms about Barbie and the impact she has on young girls around the world. In the summer of 2000, they decided to change Barbie to a more modern look.
"The new Barbie will have a more natural body shape – less busty with wider hips."
What caused Mattel to make these changes? One influence may have been a drop in sales. According to the Los Angles Business Journal, Barbie sales dropped from $2 billion to $1.5 billion in 1999.(4)
Barbie went under further changes in 2016 when Mattel released their line of new body shapes. The three new shapes included curvy, tall, and petite Barbie dolls. As well as featuring seven skin tones and 22 eye colors in addition to their new clothing line and hairstyles.
We Weren't Meant To Be Barbie
I (Heather) recently read a blog post called "Why I Never Wanted to Be a Barbie Doll" by Sheila Rhodes. She talked about how she played with Barbie dolls a lot when she was a child and realized that she would never measure up to them. Even as Mattel started changing the image of Barbie, and giving her careers and cars, it just reinforced her belief that she would never have it all. But she began to realize why that was a good thing. One quote I especially loved from her article was this: She said, "Keep this in mind. Barbie was never real, but YOU are made in God's image, not Mattel's."
In a Tweet she went on to say that, "God never expected girls to become a Barbie Doll. We are not mass produced." Those words really penetrated me. The world would have us believe that there is beauty shaped cookie cutter, and if you don't fit the mold, you don't fit the bill. But that is so far from the truth! God created each of us uniquely in His image. We are all different, but we are all our own kind of beautiful.  
Body Image Lies
There are many other influences on our body image that just toys and advertising. Many times it is the thoughts within our minds and how we see ourselves. We can get to the point where we begin to believe lies about ourselves. Have you fallen for this body image lie?

About the Authors
Shelley Hitz and Heather Hart have been working together for close to a decade. This ministry stems from their combined efforts to help today's teen girls find their true beauty in Christ.

You can learn more about them and their ministry here: https://www.teen-beauty-tips.com/meet-our-team.html



---

Shelley and Heather have written a book...
specifically for teen girls -- and this book could change your life
or the life of a teen girl you know!


Here's something else to think about regarding Barbie...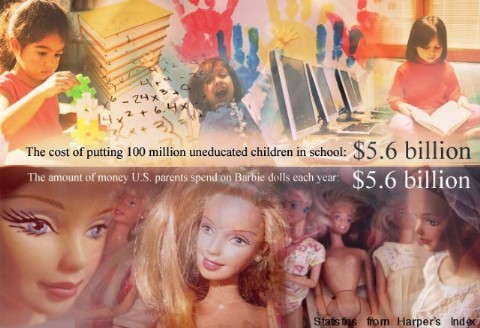 References
1) Pendergast, Sara. "Barbie." Gale Encyclopedia of Popular Culture. 2002.
2) Norton, Kevin I. "Ken and Barbie at Life Size." Sex Roles. (Feb. 1996): 287-294.
3) Cindy Jackson. www.cindyjackson.com.
4)Gorchov, Jolie. "Mattel Giving Middle-Aged Barbie a Major Makeover." Los Angeles Business Journal 20 Mar. 2000. 18 Feb. 2003. www.findarticles.com.
Images:
1) www.mndaily.com/articles/2006/10/13/69379- Barbie compared to average adult woman
2) 5.6 billion Barbie
Return from Barbie Body Image to The Problem With Our Self Esteem

Return from Barbie Body Image to Teen Beauty Tips Homepage
Let us know what you think!

Share Your Reactions to Barbie...
Do you think Barbie influences girls today? Do you think playing with dolls like Barbie put an unrealistic goal of what we should look like?
What Other Have Said...
Click below to read other's submissions