Who is Your Role Model?
Characteristics of a Role Model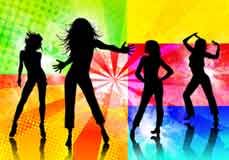 Ask yourself this question: who is your role model and why? There are many "role models" for teen girls today, but what are some characteristics of a role model to consider?
There are many different role models in our culture. Some are famous like music rock stars, TV stars, models, etc. Some are not like parents, teachers, friends.
Who influences your life the most? Who is your role model?
I recently came across the blog of Katie Davis, a 20 year old girl who is making a difference in Uganda Africa. She is putting her faith to action and helping educate, feed and provide medical care for orphans. She not only has adopted 13 kids, but her organization also sponsors 400 others. Wow! She has been an inspiration to me and I've read her blog like a novel I couldn't put down!
I like this quote that Katie had on her blog, "The purpose of life is to discover your gift. The meaning of life is giving your gift away."

As I read her story of leaving her comfortable life in Brentwood, TN to do mission work in Africa when she was eighteen I couldn't help thinking of all of you...the teen girls that read this website. I couldn't help thinking of how Katie Davis is one girl, just like you, that is living her life as a positive role model for others.
You can also check out her book, Kisses from Katie.
Katie with her children on baptism day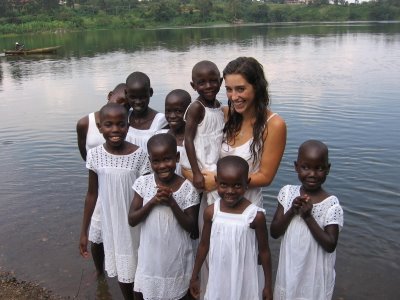 Picture used with permission from Amazima.org
Who is your role model? Share with us here.


So What Are the Characteristics of a Role Model?
We could look in so many places to find the characteristics of a role model, but if you've been reading my website for long, you realize that I use the Bible as my main reference. You can read more about why I trust the Bible here.
So what does the Bible have to say about role models?
Paul says in I Corinthians 11:1, "Follow my example, as I follow the example of Christ."
Ultimately, the best role models model Christ.
Sounds easy enough, but unfortunately not many people are truly living this out. Instead, in our self-centered society, it is so easy to give into lifting up ourselves to be worshiped. You can see it all around you. Pride instead of humility. Selfishness instead of generosity. Anger, bitterness and resentment instead of love.
To get to know more about Christ, read the four gospels in the Bible: Matthew, Mark, Luke and John. Or listen to them if you don't like reading. BibleGateway.com is a great online resource to use. As you read the story of Jesus' life over and over, asking for God's insight and wisdom, you will begin to notice characteristics and themes. Themes of humility, generosity, love.
What Kind of Role Model Will You Be?
Will you follow the current of our culture and be a role model that puts all the focus on yourself or will you model Christ in humility? Will you choose to selfishly spend your time, energy and money on yourself or will you be generous and help others? Will you respond in anger, resentment and bitterness or choose to love your enemies?
We are ALL role models whether we like it or not. To our younger siblings or kids in our neighborhood. To our families and friends.
What kind of role models will you choose and what kind of role model will you choose to be?



About the Author
Shelley has a heart for teen girls that began from her own journey of finding her true beauty in Christ. She is currently serving God by helping other Christians learn to let their light shine. 

Connect with Shelley online:
More Help for Teen Girls...
| | |
| --- | --- |
| | Shelley and Heather have written a book specifically for teen girls -- and this book could change your life or the life of a teen girl you know...  |
Who Is Your Role Model?
We all have role models in our lives. Share with us who your role models are and how they have impacted your life. If your role model has a blog or website, share it with us too!
What Others Have Said...
Click below to read others submissions



Return from Who is Your Role Model to Teen Beauty Tips Homepage