Inner Beauty Tip

Let Your Inner Beauty Shine!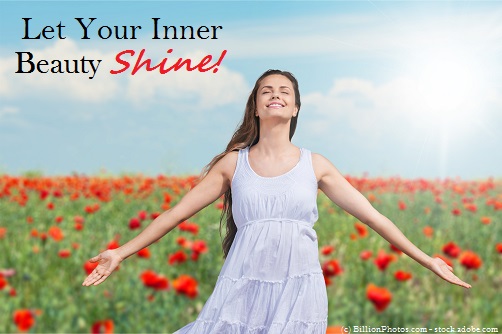 Because beauty is such an important topic for us girls, I want to share an inner beauty tip and give you the chance to share your inner beauty with others.
Most of the time when we think of beauty, we automatically think of someone's outer beauty. How they dress, what their hair looks like, what type of make up they wear, etc. I have to admit that inner beauty is thought about and talked about a lot less... at least for me.
But did you know, Dictionary.com defines beauty as, "the quality present in a thing or person that gives intense pleasure or deep satisfaction to the mind, whether arising from sensory manifestations (as shape, color, sound, etc.), a meaningful design or pattern, or something else (as a personality in which high spiritual qualities are manifest)." It also adds that the British dictionary says that beauty is, "the combination of all the qualities of a person or thing that delight the senses and please the mind."
Beauty isn't just about what we look like on the outside, it's all of us. Knowing that, I have to make a conscious effort to take the time to think about and work on my inner beauty. It's a lot easier to look in the mirror and know I need to wash my hair than take a look inside and see where I need to grow emotionally.
But, when I take the time to do so and forgive someone or connect with God, it shows! I am more fun to be around and have more joy that naturally shines through.
Watch as Mandisa Talks About Inner Beauty
I also believe that our inner beauty can represent those gifts and talents God has given us.
What gifts or talents do you have? Are you a writer? Maybe you write in a journal or write poetry. Are you an artist? Maybe you paint, draw, sculpt, design graphics, etc. Are you a musician? Maybe you've written lyrics or composed a song? Maybe you love to sing or play an instrument.
There are countless ways that our inner beauty and the creativity God has given us can shine through.
This is my inner beauty tip...let it shine through by sharing your creativity with others. I invite you to share something you wrote (a poem or journal entry, etc.), a picture of your artwork, a video of you singing or playing an instrument (I'd recommend uploading it to www.godtube.com first).
The sky's the limit. But, don't hide your inner beauty... let it shine!!
Matthew 5:14-16 says, "You are the light of the world. A city on a hill cannot be hidden. Neither do people light a lamp and put it under a bowl. Instead they put it on its stand, and it gives light to everyone in the house. In the same way, let your light shine before men, that they may see your good deeds and praise your Father in heaven."



About the Author
Shelley has a heart for teen girls that began from her own journey of finding her true beauty in Christ. She is currently serving God by helping other Christians learn to let their light shine. 

Connect with Shelley online:
More Help for Teen Girls...
| | |
| --- | --- |
| | Shelley and Heather have written a book specifically for teen girls -- and this book could change your life or the life of a teen girl you know...  |
Let Your Inner Beauty Shine!
Do you have a gift or talent to share that displays your inner beauty? It can be anything...from a journal entry to a picture of your artwork to a video of a song you performed (or wrote) or a great photo you took.

Let's share and display the inner beauty God has given us!
Others Inner Beauty Submissions....
Click below to see the submissions from other visitors sharing their inner beauty...