Be an Online Mentor
to Teen Girls!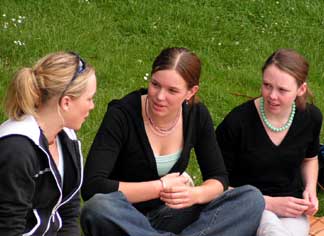 Are you a woman that desires to reach teen girls with God's Truth?
Become an online mentor for our website, www.FindYourTrueBeauty.com.
This is a simple, yet powerful way to minister to teen girls all around the world from the comfort of your own home, and on your time.
Get Invovled | FAQ | Sign Up
How You Can Get Involved...
I am so excited that you are drawn to volunteer with us and help encourage teen girls!  This is a way to have influence over girls literally all over the world.  It's amazing what the internet can do in connecting people. 
There are several ways you can get involved.  Please prayerfully consider the following and let me know where your interests lie.
1.  You can join our prayer team. 
This will allow you to know the latest requests I've received from girls that have contacted us for prayer and be able to encourage them online.  
You can sign up for the prayer team here.
2.  You can become a mentor for the girls who write submissions to our website. 
There are many places throughout our website for girls to share their thoughts, stories, and struggles.  When someone writes a new submission, you will be notified and able to write a word of encouragement or of advice to them.  I try to personally respond to every girl, but it's always nice to get more than one reply.  
When you sign up for our list below, you will get a weekly e-mail with new submissions to the site. 
3.  You can write articles for the website to encourage girls. 
I'm open to almost anything that is applicable to teen girls today, but here are some topic suggestions below.  I prefer the articles be written from a Biblical worldview, but some informational articles that include statistics, etc. can also be helpful.
Anorexia
Bulimia
Overeating (eating addiction, emotional eating)
Cutting (what drives it and how do you deal with it?)
Family conflict
Absent father figure (either not there or neglectful)
Divorce and how to get through it
Remarriage of a parent
Sex and dating
Sexual purity
Sexual abuse
Rape
Oral sex (are people doing it, what are the risks and what is God's perspective)
Homosexuality
Teen pregnancy
Abortion
Teen suicide
Mean girls and how to deal with them/bullying
Stories of forgiving others
Stories of how God has worked in your life
Studies on different topics, verses or stories in the bible and how it relates to your life
Modesty
Media and its impact on us, esp. our beauty
Coping with a physical disability
Drugs/alcohol/partying
Peer pressure
Let me know how you're interested in getting involved and if you have any other questions!
Frequently Asked Questions About This Ministry
Here are some frequently asked questions for volunteers who start ministering with us.  Let me know if you have any additional questions!
1. Could you tell me some background on this ministry and yourself as the director?
The website was started in September of 2007 by Shelley Hitz.  That year, God did amazing things in her life... rescuing her from destruction and healing her heart from past hurts.  As she went through this transformation, beauty was one area she realized she needed to surrender to God. 
Her husband travels around the United States and speaks full-time to youth about the topic of media and the influence it has on our lives.  God began showing her how influenced we girls are by the media in how we see our beauty.  He then led her to start sharing with girls the hope she had found in Jesus through an interactive multi-media presentation about finding your true beauty. 

Many times, they would present a breakout session where her husband took the guys and talks to them about pornography and she would the girls and talk to them about beauty. But, she soon realized that a one hour presentation wasn't enough to really give them all the information. She had experience building other non-ministry websites and felt God prompting her to start a ministry website as a follow-up to these presentations. Thus, FindYourTrueBeauty.com was born.
What she didn't know is that this website would do well and begin to reach girls all over the world that didn't attend the presentations, but still needed to hear the message.
That's how I came in. Having never met Shelley, I stumbled across this website online and came on as a volunteer in 2008. I was also volunteering for an online Christian Mom's community and several of the moms there were looking for solid devotionals for their teen daughters. I knew about Shelley's ministry that I was already volunteering for, so I asked her if she had any devotional books. She confessed that she didn't, but asked if I would be willing to help her write some. 
That was the true beginning of our friendship and ministry partnership. Over the years we have worked together to write over a dozen books. After our success as authors, Shelley shifted her focus to helping other Christian writers get their message out and I took over as the director of FindYourTrueBeauty.com in 2016.
My heart has always been for helping women of all ages grow in their walks with God. I have a special heart for teen girls because I came to Christ as a teen myself, and really struggled to find resources and support. This website holds a message I wish I would have had back then and my prayer is that it helps the girls who need it.
2. How do you advertise for your website?
While we do share about this website both on and offline personally, most of our visitors come from search engines like Google.
When Shelley originally built this website, she did a ton of research on keywords and search terms to help the articles reach the most people possible. And it worked. As of May 2009, the website was averaging around 520 unique visitors per day and reaching a total of over 16,000 different people per month. In 2012 we reached almost 3,000 unique visitors per day. Shortly after that is when Shelley started transitioning her focus to helping authors, and our numbers started to fall. We dipped down to an average of 300 unique visitors each day before I took over in April. However as of July 2016, we have climbed and are again averaging around 700 unique visitors each day.
My hope and prayer is to see that number increase again so that more people can be exposed to God's truth. And any articles you write can help us reach more people!
For example in May of 2009, if you had typed "teen beauty tips" into Yahoo or Live, this website was #1 (on Ask #2 and Google #3). However, if you'd typed in "Barbie body image" into Google, you would have seen this website as #1. Rankings can change frequently, but that's how we get most of the traffic to this website... through the search engines. Our rankings have fallen with it's in activity, but we are hoping to see them rise again. We are still #3 on Google for "Body Image Lies" (#2 being a book we wrote). 
3. How big of a staff/volunteer network do you have?
I currently manage the website completely on my own. Before it fell off in 2012 there was a small team of part-time staff/helpers, and a decent sized volunteer network. I do have a prayer team re-established, and I hope that as the website grows again, our volunteer network will as well. I'm excited to see who God continues to bring to us.
My goal isn't to make money off this ministry, so I don't know that I will ever be able to employ staff. I do have a few affiliate and/or sponsor links on the site that help cover part of the expenses of running it. But my main goal is to provide free resources for teens.
4. On average, how many teen submissions do you get?
Currently we are only getting one or two submissions each week. However, I expect that number to climb. If you sign up as a teen mentor, I will send out a weekly digest of the submissions. So you should only get one e-mail a week.
We do get more prayer requests than site submissions. Some weeks there are only one or two requests, other weeks there are ten or more. The prayer team also gets a weekly e-mail with all the requests. But again, our prayer team is currently separate from our mentor program. You are free to sign up for both though.
You can sign up for the prayer team here.
5. If I write an article for your site, what are the requirements?
First and foremost, I find it's best if you contact me and let me know what you want to write about before you do so. That way we both know what is expected and can work out any specific details. I would hate for you to write an article for the site and for me not to be able to use it. That puts us both in an awkward situation. 
If we decide your article is a good fit for FindYourTrueBeauty.com, I ask that articles are are at least 250-300 words, but can be much longer. Just remember that attention spans are short in this day and age. 
I will read through your article and edit as needed to fit the flow of the website. But, I want to maintain your work as much as possible. I may add links to other pages, correct grammar or spelling, or break up the paragraphs to make it more readable online (adding headings if needed). Things like that.  If I have any issues with the content, I will let you know and we can talk about it.
You can include pictures, but they need to be ones you've taken or ones we have permission to use. If you have a picture you'd like to use, you can send it to me to insert in your article. Otherwise, I will usually try to find a picture myself.
You can also send me a short author biography and one link to include at the end of your article. This is optional.
In the past, Shelley did a brainstorm for each topic to find keywords that would help each article get picked up by the search engines. I do not require that you let me do that for you, however, if you would like help getting your article seen by as many people as possible, I can absolutely help you with search terms.
For example, Melisa, a previous volunteer, wrote an article on cutting. Therefore, Shelley brainstormed the terms for cutting and here are a few that came up that we ended up using for the cutting article.... 

Cutting yourself (2312 searches / 157 other WebPages already written on this search term)
Teenage cutting (937 searches / 7 other WebPages)
Self injury help (532 searches / 33 other WebPages)
Self injury poems (186 searches / 1 other webpage)
You can see the article here: Teenage Cutting - What It Is and How to Get Self Injury Help

So, what she asked writers to do was to try to insert the search terms they (she and the author together) choose (the ones that have the most searches but the least amount of other WebPages already written on them) into the article. Sometimes you have to get kind of creative to make them fit appropriately or reword things slightly. But, it really is worth the extra time because many more people will find your article this way.
A Message From Heather
I hope all of that made sense to you. Let me know if you have any other questions! I want to thank you so much for your heart for teen girls, and I hope you will join me in helping them find their true beauty in Christ.
If you sign up, I will begin sending you updates with new submissions about once per week. 
You can also let me know what topics you'd like to write about and I can begin brainstorming the best search terms if you'd like. That way you can write the article with those terms in mind.
I look forward to the start of a beautiful friendship.
Working together to help girls find their true beauty in Christ,
Heather Hart

Sign Up Now!
Sign up below to join our online teen mentor program and get weekly emails with chances to speak into the lives of today's teen girls. 
Get Invovled | FAQ | Sign Up



Return from teen mentor to Teen Beauty Tips Homepage