Skunks TV
by Alyssa Shull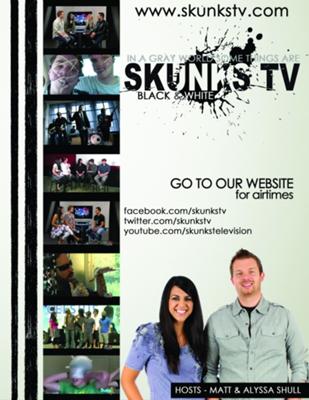 Youth evangelist Matt Shull believes Christians should stop criticizing television, Facebook, Twitter and video games and instead start using every form of media to spread the gospel. Matt and his wife, Alyssa, are Oklahoma-based evangelists who produce their own television program for teenagers called Skunks TV.


"Evangelism is invading secular space wherever it is found," says Matt. "We need Christians evangelizing through Facebook, Twitter and texting, as well as through creating Christian movies, novels and video games. Jesus went where the people were. In His day they were at the well or in the market, but people today are watching TV, playing video games and surfing the Internet. Let's not criticize what's on it. Let's do something to change it."
That aggressive passion fuels everything the Shulls do. And they do a lot-the TV program, a special outreach to teen girls, spiritual renewal weekend events at churches, and international evangelistic events.
Matt got his degree at Indiana Wesleyan University in Christian Ministries and Alyssa graduated from Oral Roberts University, where she got a degree in Multi-Media Productions. They combine the ministry degree with the media degree to produce Skunks TV.
Skunks TV is a fast paced 30-minute program designed to entertain and change lives in the process. Each episode includes real life stories, the best Christian music videos, interviews with top Christian artists and personalities, and our 'Dudes of Skunks TV', a group of hilarious guys who attempt insane stunts. While these elements make the show entertaining, in every episode Matt and Alyssa bring the Word of God and give young people an opportunity
to follow Christ.
The program airs on multiple platforms that give them the opportunity to reach a potential 3 billion people. The stations include: JCTV (United States, Global via Satellite), Nejat TV (Middle East), Gospel for Asia TV (India & parts of China), & DirecTV 363 (United States). Previous episodes can be viewed at
skunkstv.com.
Skunks TV has had many special guests, including Lisa Bevere, Joel Stockstill, Jars of Clay, Hawk Nelson, Point of Grace, Stellar Kart, Leeland, Jimmy Needham, Pocket Full of Rocks, Brian "Head" Welch, formerly of the rock group Korn and many more.
Matt says he and his wife believe reaching today's younger generation must be a priority for the American church.
"We are losing too many of the next generation to secularism because we are not intelligently answering honest questions," he says. "Between 80 and 90 percent of people who choose to follow Christ do so before the age of 20. After that, the numbers drop dramatically. We need to make sure our energy and money are poured into the next generation, or we will continue to lose ground in America."
Alyssa agrees, adding that young people today crave seeing a genuine expression of New Testament faith. "It is going to take signs, wonders and miracles to get this generation of young people convinced of the gospel. They are hungry for something real," she says.
Skunks TV is an avenue to reach this generation of young people across the globe, and let them know that Jesus loves them, and has an awesome plan for their lives. Go to
www.skunkstv.com
for more information.