Love Myths Continued
The Truth About Love Part 3
By Sarah Shuling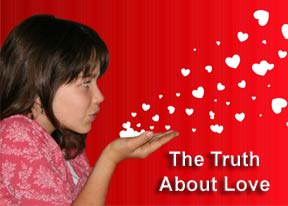 Love Myths # 3: I Define for Myself What Love Is
"I will love who I want, when I want, how I want. Nobody should govern these for me but myself."
"Love should not be faulted because love is always good."
"Love shouldn't correct. It should always accept, tolerate and condone all behavior."
"I know what's best for me. I am in control."
"I am a man but I love another man and want to marry him."
"I am a married man but I am in love with another woman."
"Love and sex are separate. I can have sex with several women but love none of them."
"When it feels right we will start. When it feels wrong we will stop."
I heard all these ideas on love, and started to get confused. I wondered: Is there any Truth governing what love is, how love is supposed to be?
The Truth About Love # 3: There is Only One Truth, and It Is Found in God's Word
Society has changed, from people seeking the One Truth to everyone coming up with their own versions of the Truth so as to satisfy themselves. Man distorts the truth for his own pleasure. But God's Word is the one and only Truth, and everything other than this are lies.
You see, God created love, God created relationships, God created marriages and sex. He has rules for each of these, which He carefully outlines in His Word. Studying His word, I found out that we are to love everyone, just as God loves everyone. We are to show love not only to those who love us back, but even to our enemies, even to those that are unlovable or have done nothing to deserve our love.
We are to build relationships with Christians and non-Christians alike. If it is God's will, He will provide a partner of the opposite sex for us to get married. Courtship is preparation for marriage, and dating should not serve the purpose of just bringing pleasure, but should always be purposeful and working toward the possibility of marriage. God created sex, and meant for it to be enjoyed within marriage, as a way for the couple to minister to each other and fulfill each others' needs. Love comes with commitment, and marriage is for life, for better or for worse. This is His command.
Love always seeks the best for the other person and out of the other person, even if this means discipline. Just as a loving father disciplines his child so that he will walk in the right way, so the Father disciplines us and guides us to walk in His way. The Father will not condone sin because He hates sin. And if we love God, we will also hate sin and flee from it.
God has His rules, and when we do not follow them, we commit sin. Is it a big thing to sin? Of course, it draws us away from our Father and prevents us from having a right relationship with Him. It makes our Father sad and angry at the same time because He hates sin but He loves you.
Our heart will deceive us many times, and we are to rely only on God and God's word, not on our own limited knowledge or abilities, for we are only human. With God all things are possible. We can stop whatever sinful activities and thoughts we have and let God take over our lives. God always has His arms open waiting to welcome us back.
The Bible on Love
Probably the most famous passage in the Bible on love is 1 Corinthians 13. In addition to all the verses mentioned above, this passage teaches us on the definition of love.

1 Corinthians 13
If I speak in the tongues of men and of angels, but have not love, I am only a resounding gong or a clanging cymbal. If I have the gift of prophecy and can fathom all mysteries and all knowledge, and if I have a faith that can move mountains, but have not love, I am nothing. If I give all I possess to the poor and surrender my body to the flames, but have not love, I gain nothing.
Love is patient, love is kind. It does not envy, it does not boast, it is not proud. It is not rude, it is not self-seeking, it is not easily angered, it keeps no record of wrongs. Love does not delight in evil but rejoices with the truth. It always protects, always trusts, always hopes, always perseveres.
Love never fails. But where there are prophecies, they will cease; where there are tongues, they will be stilled; where there is knowledge, it will pass away. For we know in part and we prophesy in part, but when perfection comes, the imperfect disappears. When I was a child, I talked like a child, I thought like a child, I reasoned like a child. When I became a man, I put childish ways behind me. Now we see but a poor reflection as in a mirror; then we shall see face to face. Now I know in part; then I shall know fully, even as I am fully known.
And now these three remain: faith, hope and love. But the greatest of these is love.
Based on the above definition, if we love somebody, we are saying that we are patient and kind towards him, we will not boast towards or be proud towards him. We will not be rude towards him but always be looking out for his interests. We will not be easily angered by him and will keep no record of his wrongs. We will not be evil but always speak and act in truth. We will protect, trust, hope, persevere in him and never fail him no matter what happens.
How many of us can truthfully say that we are able to love others like this at all times? Not only in what comes out of our mouth, but what goes on in our mind as well. There is only one person in the entire world who can do this, and His name is Jesus. Do you know that you can actually replace every word "love" in the above passage with "God" and that would be a beautiful picture of God?


Read the next article here: Love Myths: Conclusion

Share your thoughts on love here
More Articles on Love Myths and The Truth About Love
Love Myths #1: Love is based on feelings

Love Myths #2: Finding a boyfriend will fill all my needs

Love Myths: Conclusion



More Help for Teen Girls...
| | |
| --- | --- |
| | Shelley and Heather have written a book specifically for teen girls -- and this book could change your life or the life of a teen girl you know...  |
What Are Your Thoughts About Love?
Do you agree with the love myth and truth about love discussed above? What other myths do you think teen girls are falling for?

Let us know what you think!
What Others Have Said
Click below to see the opinions from others...

Now I get it..
I'm 18 and I have always wondered why I never seem to be happy in a relationship. I realize now that it's because I keep trying to have them fulfill my …