Are You a Victim of Teen
Internet Addiction?
Learn the Effects of Internet Addiction
There are many types of addictions but have you heard of internet addiction? Yep! It's true. Many teens and adults are getting addicted. Are you a victim? Learn more about the effects of the internet and how to get help.
The History of the Internet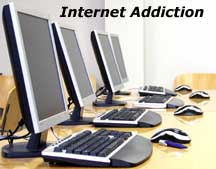 How have we gotten to the place of internet addiction today? Well, here is a brief history of how the internet and how it all began.
The initial idea behind the internet started in 1961. However, "in 1993 the Internet experienced one of its largest growths and today is accessible and used by people everywhere in the world." (1) Therefore if you were born in 1993 or later, you have probably had access to the internet most of your life...therefore leading to the issue of teens getting addicted to the internet today.
I graduated from high school in 1993 and distinctly remember first using e-mail when I went to college. Wow, have times changed since then. Now, we can do just about everything from the internet. We get the news, the weather, stay connected with friends and family, share pictures and videos, shop, get maps and directions, get information for school work and the list goes on.
Along with all the positive influences of the internet, there are also some negative influences that lead to internet addiction.
Pornography

Gambling

Compulsive Shopping

Gaming Addiction

And the list goes on...
Media Consumption in the U.S.
Is there a problem? Here are a few statistics on media consumption. These stats include TV, internet, video game use. Check out these shocking statistics...


Are You Addicted to the Internet?
How much time do you spend online each day? Maybe it's a porn addiction, gaming addiction, shopping addiction, e-mail addiction, internet surfing addiction, social media addiction, or workaholism.
Do you feel like the internet controls your life? Is is taking the time you could be using elsewhere? I think the TV and internet are some of the biggest thieves in our culture... because they steal our time!
Take this internet addiction test to see the effects of internet addiction in your life.
What Are the Effects of Internet Addiction?
"A person who is "addicted" to the computer is likely to have several of the experiences and feelings on the list below: How many of them describe you?
You have mixed feelings of well-being and guilt while at the computer.
You make unsuccessful efforts to quit or limit your computer use.
You lose track of time while on the computer.
You neglect friends, family and/or responsibilities in order to be online.
You find yourself lying to your boss and family about the amount of time spent on the computer and what you do while on it.
You feel anxious, depressed, or irritable when your computer time is shortened or interrupted.
You use the computer repeatedly as an outlet when sad, upset, or for sexual gratification.
You develop problems in school or on the job as a result of the time spent and the type of activities accessed on the computer.
When you are not on the computer, you think about it frequently and anticipate when you will use it again. (2)
How to Get Teen Internet Addiction Help...
Try a Media Fast
I recommend taking periodic media fasts where you "unplug" from a certain type of media for a specific time period. You might decide to give up all internet for 30 days. Or that may feel like too much for you and so you decide to give up the internet for one day in order to spend time outdoors and plugging into your Creator instead.
Internet Addiction Rehab Centers
I just stumbled upon an article the other day that said the first rehab center for Internet addiction opens in the U.S. and offers a 45 day detox program for $14,500. Wow! I found it very interesting because one of the main parts of the program is getting out into nature more often. (3) 
Ultimately it Comes Back to Re-Connecting With God
Unfortunately, the internet (and TV and video games) take a lot of our time and energy away from our relationship with God. I have seen this in my own life. I may be doing "good things" online, but find that hours have passed and I missed my opportunity to spend time with God by going on a prayer walk, journaling or listening to worship music. I have missed out on building my relationship with God, the only one who can truly fill the void in my life.
It's so easy to let happen in our culture of social networking, blogging, texting and information overload. It seems like there is always something to distract our attention from Christ. And it can feel like we are swimming against the current of culture when we decide to break away from the media that is controlling our time and energy.
I have to confess that I have felt controlled at times by my need to check my e-mail or Facebook constantly through the day. In church today I was praying and asked God why I tend to get controlled by e-mail and social networking. I sensed God saying in my spirit that it is because of my desire to be in constant communication. I long to hear back from people and get their feedback. And social networking provides a way to do that...and happens to be very addicting! I was realizing that God gave me the desire to be in constant communication....and I try to find it in people instead of God. When I stay in constant communication with God, I get filled up so I'm not so "needy" for other people's attention and contact.
"I have set the Lord continually before me; because He is at my right hand, I shall not be moved." Psalm 16:8 (AMP)
Learn Ways to Connect with God
The Bottom Line?
"Therefore, since we are surrounded by such a great cloud of witnesses, let us throw off everything that hinders and the sin that so easily entangles, and let us run with perseverance the race marked out for us. Let us fix our eyes on Jesus, the author and perfecter of our faith, who for the joy set before him endured the cross, scorning its shame, and sat down at the right hand of the throne of God." Hebrews 12:1-2



About the Author
Shelley has a heart for teen girls that began from her own journey of finding her true beauty in Christ. She is currently serving God by helping other Christians learn to let their light shine. 

Connect with Shelley online:
Let us know what you think!

Share Your Reactions about Internet Addiction...
Do you think internet addiction is a problem today? Why or why not? What about e-mail, Facebook and Myspace? Can you get addicted to social networking?

Share your ideas and what you've found helpful in overcoming internet addiction.
What Others Have Said...
Click below to read others submissions
Internet time limit software Not rated yet
I have created an internet time limiting software application, which I think your readers may be interested in knowing about. I came across your website …



References
(1) http://www.computerhope.com/issues/ch001016.htm
(2) http://www.utdallas.edu/counseling/selfhelp/computer-addiction.html
(3) http://blog.seattlepi.com/thebigblog/archives/177649.asp


Return from Internet Addiction to Teen Beauty Tips Homepage