National Statistics for Anorexia with Anorexia Charts
The Slow Suicide
by Melisa Steele
Looking for national statistics for anorexia? Here are some we have compiled including anorexia charts.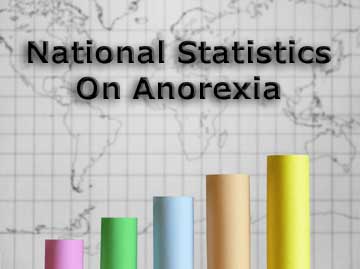 Anorexia is one of three eating disorders and is classified as a serious medical condition affecting about 1% of the female population. That may sound like a small number but it averages out to be 1 out of every 100 young women! Anorexia rarely claims victims before puberty our after the age of 40. It is the third most chronic illness in young adults between the age of ten and twenty who are literally starving themselves, sometimes to death.
Let's take a look at some of the National Statistics for Anorexia:
50% of girls between the ages of 13 and 15 believe they are overweight
40-60% of high school girls diet
30-40% of junior high girls are concerned about their weight
80% of 13 year old girls have dieted
40% of 9-year-old girls have dieted
85% of patients develop this disorder between the ages of 13 and 18
Eating disorders have the highest mortality rate of any mental illness and because of this fact some call anorexia a slow suicide. Only 1 in 10 people with an eating disorder will receive treatment and out of this number 80% do not receive treatment at the intensity they need to recover. The death rate associated with anorexia is 12 times higher than the death rate of all causes of death for females 15 –24 years old.
20% of people suffering from anorexia will prematurely die from complications related to their eating disorder, including suicide.
5 – 10% of anorexics die within 10 years after contracting the disease
18-20% of anorexics will be dead after 20 years
30 – 40% ever fully recover – that's less than half!
Anorexia Charts
Maintaining a healthy weight is very important. Eating a balanced diet will help you feel more energized and help keep you alert. It will also help prevent diseases and health complications. Please review the 3 charts below for a clearer picture.
Anorexia Charts #1: Healthy Dieting vs. AnorexiaThis chart actually shows what healthy dieting is compared to the eating disorder, anorexia:


Anorexia Charts #2: Food Pyramid
This Give you an example of the amounts of food you should eat daily from each group.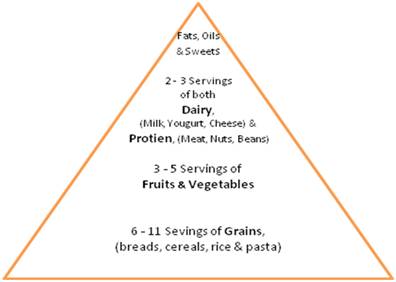 More Articles on Anorexia
Other Resources for Anorexia
Check out this free bible study and accountability from Setting Captives Free called, "In His Image."
You may also want to check out this website www.yourstory.info where others share their stories of struggling with anorexia and overcoming it.
More Help for Teen Girls...
Shelley has written a book specifically for teen girls...and this book could change your life or a teen girl you know...Find out more now!


Bring Shelley to speak to your group, church or school! Shelley's openness and vulnerability as she shares her own story of hope and healing will inspire and encourage you. Get started now!


You are not alone
We also would like to pray for you and support you. So send us your prayer requests.





Return from National Statistics for Anorexia to Teen Beauty Tips Homepage